Vårkonsert i kärlekens tecken!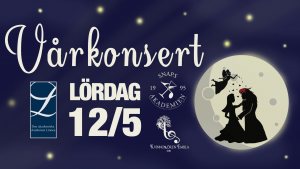 Välkommen till en vårkonsert i kärlekens tecken!
For English below!
Kvinnokören Embla, manskören Snapsakademien och den akademiska damkören Linnea bjuder härmed in dig till en vårkonsert du sent kommer glömma! Du kommer att bjudas på en fängslande kärlekshistoria kantad med fantastisk körsång och spexiga studentikosa upptåg på både Luleå- och Linköpingsvis.
Våren är som vi alla känner till en tid för kärlek. Våren 2017 friade Den akademiska damkören Linnea från Linköpings universitet till Manskören Snapsakademien. Den här våren vankas det bröllop där nya band mellan norr och söder ska bindas. Snapsakademien välkomnar sin käraste och Kvinnokören Embla öppnar famnen för sin nya syster från söder.
Datum: 12/5
Tid: kl 15:00
Plats: Aula Aurora, Laboratorievägen 2 Luleå tekniska universitet
Priser:
120 kr
80 kr – Student/pensionär
Biljetter börjar säljas 2/5
– Vid studenttorget och ljusgården under lunchtid.
– Receptionen i Kulturens hus
– www.ticketmaster.se
Följ våra sociala medier för att inte missa något!
————————–————————–————————–————————–——————-
Spring is as we all know a time when love is in the air. Last spring, The Academic Womens Choir Linnea from Linköping University proposed to the Male Choir Snapsakademien of LTU. You will experience a gasping love story presented with fantastic choral music and humoristic features.
This spring, a wedding is approaching and new bands are to be tied between north and south. Snapsakedemien are longing for their loved one, and the Womens Choir Embla are welcoming their new sister from the south.
Date: 12/5
Time: 15:00 (3.00 pm)
Location: Aula Aurora, Laboratorievägen 2 Luleå University of Technology
Price:
120 kr
80 kr – Student/pensioner
Tickets will be sold from 2/5
– At lunch by "Studenttorget" (Student Square, B-house) and at
"Ljusgården" (C-house) at LTU Campus.
– At the reception in Kulturens hus
– www.ticketmaster.se
Follow us on our social medias so you don't miss anything out!